Too hot to go outside? Try my summer reading challenge! See below for details.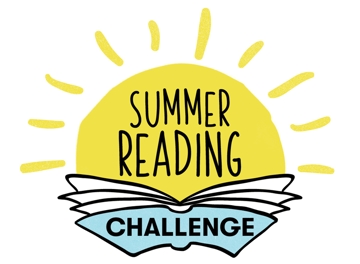 THE CHALLENGE: Read as many books that have been made into shows or movies as you can, then watch the shows/movies on your preferred streaming device!
SOME GREAT SUGGESTIONS OF FILM ADAPTATIONS
1) "Locke & Key" adaptation of a fantasy comic series published between 2008 and 2013.
2) "To All the Boys: P.S. I Still Love You" is a sequel to "To All the Boys I've Loved Before," and is based on Jenny Han's 2015 A romance novel of the same name.
3) The popular 2015 young adult book "All the Bright Places" is now a movie starring Elle Fanning and Justice Smith.
4) The new teen dramedy "I Am Not Okay With This" was originally a 2017 graphic novel.
5) The "Shadow and Bone" TV series will explore the magical intrigue of author Leigh Bardugo's "Grishaverse."
6) The most recent book to inspire a Netflix series is Thomas Wheeler's fantasy novel "Cursed," which was published in October 2019.
Thank you to ALL who entered our logo contest!
May contest: Create a logo for our website! Submit your entry (hand drawn or digital) by May 28. Winner will be chosen May 31. Prize is $50.00 in gift cards
April Contest Winner:
Fiea Marsh
Want to help build our library collection? How about enter our amazing monthly contests? Fill out an entry form below, or come into the library for help. We aren't jesting!!
Every month, we will have an exciting new contest for you to enter either online or in the library.
Email your entry to:
adam@sd83.bc.ca OR kklausma@sd83.bc.ca
Or, try other online contests